Trip Report – February 20 – 27, 2010 – Part 4
On Friday, after the last dive of the week, went back to the Casa. Claudia had been doing a painting at the Casa. Here she is on the balcony where she is painting.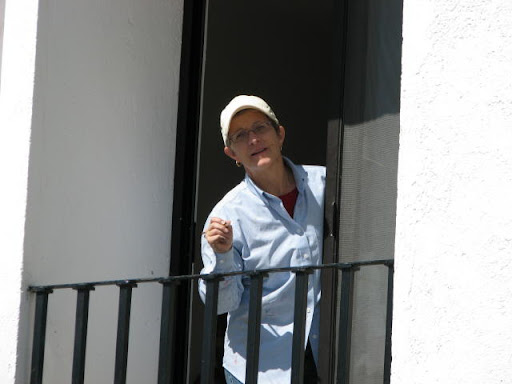 And here is the scene she was painting.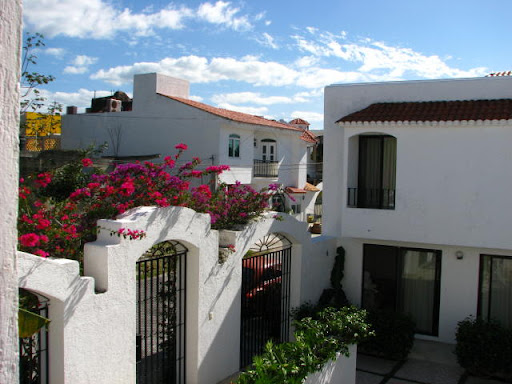 And here is where she is at so far. (Again, there are a few things she wants to improve before she considers it done.)
Friday night we went to the main coast road (Melgar) by the airport road (by the monument to the mixed races) for our sunset photos. It got pretty cloudy just as the sun went down but here is the best we could get.
Then we went out to the Casa la Mission on Ave 55 and Juarez for dinner. It is a very nice restaurant – beautiful grounds, good menu, and very nice service. I have to have coconut shrimp at least once every trip and this was it for me. Greg had the shish-ka-bob, Chris the fish vera cruz. Claudia had not been feeling great the last couple of days and had the chicken Caesar salad. Desert was coconut ice cream. Then back home.
Our flight on Saturday was not till 5:40 so we talked with the maid about checking out late. They were able to accommodate us so we spent the morning handing at the pool and slowly packing. Chris wanted a hammock so we sent over to the Mercado (on Salas one block south of Juarez, between avenues 20 and 25) to look for them. She found a really nice one, multicolored, strong silk-like threading for $21. We also shot out to the Mayaluum ceramic shop almost to the east coast of the island along Juarez to get a couple clay suns to hand on our garden wall back in Michigan. They had a whole wall of $5 items and then a bunch of other stuff. Time now to drop off the car. I went to Mega and had the car wash guys give the car a good cleaning before returning it. While I was there I ran into the Humane Society ladies with their gagle of cute little dogs they were trying to get people to adopt. Great plan. I hope that works for them. Then get the car back to ISIS and catch a cab back to Martillo. When we were at church that morning we arranged with a taxi van to pick us up at 2:30 for the airport. He showed up at 2:20 and we were on our way. Took only maybe ˝ hour to check in. Had another strange problem at the airport. Claudia uses a large sun umbrella that is special for painters. The shade fabric does not change the color tones of the painting that it is shading. We went thru all kinds of effort to make sure we could get the thing down there. Then we found out that Delta considers umbrella to be freebies – you can bring one on the plane with you and it doesn't count as a carry on. However, when we went thru security to get onto the plane in Cozumel, the security people would not let us bring the umbrella on at all. The Delta flight people said it was OK with them, but the airport security people would not let us take it thru the security check. So Claudia stayed at the airport with the carry ons and the rest of us went back into town for an hour and ˝ to finish saying goodbye. I spent the time taking the umbrella to Pancho's house – our dive master friend. He said he'd be glad to hold on to it for our next trip. (Its great to have friends.) Flight back to Detroit was fine. There was 2 feet of snow in my driveway. I wonder how long before Claudia lets me go back to Coz?