Carnaval is over. It took a couple of days of rest and about 10 minutes to plan our trip to Belize. We had a good time down there last year so decided to do it again. David, his neighbor Steve, their friend Dean, my friend Bill, and I left in the morning to catch the 7:00am ferry to Playa.
The ferry was fairly empty and it was to early for a beer. We just enjoyed the ride.
The streets in Playa don't seem to be very crowded early in the morning.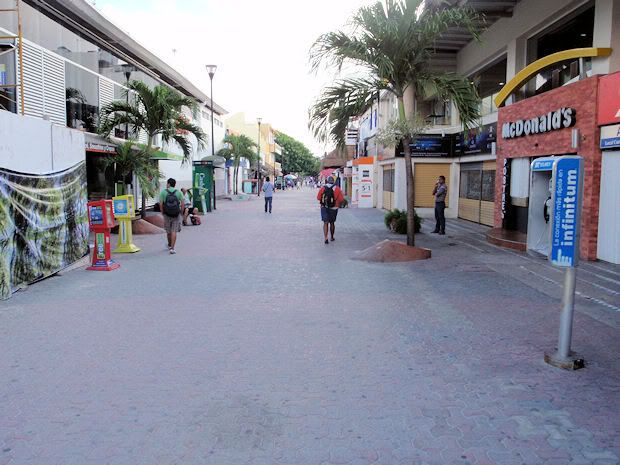 One of the things I always do in Playa is get a conchinita pibil torta from one of the stands by the bus station. I don't remember exactly but I think they are $15 pesos each. You can get the marinated onions and add hot sauce to it if you like. Great for breakfast.
Our bus left from the other station in Playa so we took a taxi over there. It's not a long drive. The cab driver charged us $40 pesos. It should have been less. You can walk there easily bit we didn't feel like carrying our luggage.
The bus ride to Chetumal is 4 1/2 hours and it stopped in Tulum for about 10 minutes. You can get off the bus if you like. Last time I thought we stopped in Fellipe Carrillo Puerto but not this time.
The bus arrives in the Chetumal station and you have to take a taxi over to the pier. Check prices with the taxi driver before you leave. The fare should be $40 pesos but they are trying to get $100. There are two ferry companies at the pier and you have to buy your ticket from one of them. They will take your luggage and bring it down to the boat you are leaving on. The pier is long so I would take advantage of that service. Another new thing is they are charging an exit tax of $292 pesos to leave Mexico. It's supposed to be paid at a bank but they will take your money there. Next time I will just by-pass the immigration station and keep my tourist visa. When I come back I will get my luggage checked then walk past the booth that gives you a new tourist visa as I still have my old one. It's not very organized there so it's easy to do. I'll let you know if it works.
The boats usually don't leave on time and there is only a half hour difference in their departure time so I don't know if it makes a difference on which one you take. The ride to Ambergris Caye is around 2 1/2 hours. You line your luggage up and customs come by with a dog that smells every bag. As long as the dog doesn't stop at your bag you are free to go.
The boats are fairly comfortable but sit towards the back in rough weather. It makes a big difference in the comfort of the ride. The boats have 3 - 250 hp motors on them and they go pretty quick.