I was up early as I had a lot of things to do before the kids got ready. Stopped at Mega for beer and ice. Soon after I returned home Mauro stopped over with 2 guys to take a look at my water problem. They knew what it was right away. I had to change my Pichanga (sp) valve. That's a back flow valve on the pipe that sits in the cistern. The 2 guys went out for a new part and the repair took less than an hour. $350 pesos for labor and material. Next I ran down to Cablemas to get the cable and internet hooked up. When I left in April I returned my modem and had the account put on hold. I talked to Rosa who is the only one that speaks English there. It cost $750 pesos to get turned on and someone would be out tomorrow if she could schedule it right otherwise it could be a week to ten days. With that done I went home and had a cold beer before taking the kids up to the yellow hotel (Playa Azul) which is their favorite place to swim.
The hotel wasn't crowded. Six rooms were occupied out of the sixty to seventy rooms they have. Felipe and the other bartenders were still there so I knew it wouldn't cost me a lot to have a few beers there.
Nothing has changed at the hotel. The turtles are still there.
The scenery is still good.
And Bob and Sam have a good time there.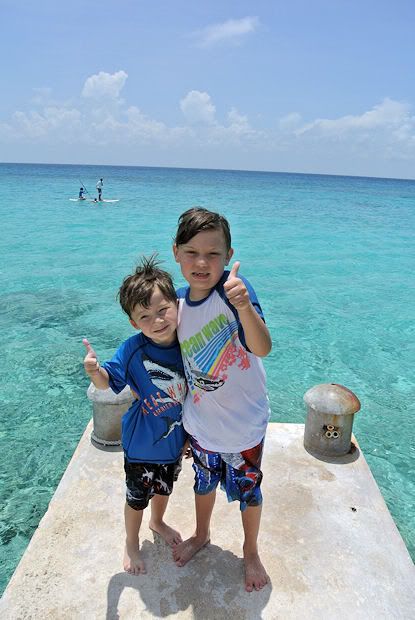 We normally take the kids around noon until 3:00 or 4:00pm. They are usually tired out by then and ready to go home.
On the way home we will stop at Burger King for the kids and their mother then later I will run out and get something for us or cook. Today has been a long first day for them and it's only July 4th. We still have another 29 days to go.