I forgot to mention that a week before Carnaval the federal police were stopping all the American plated cars they saw. All my neighbors were stopped along with 6 or 7 other people I know so the feds could check the papers on the vehicle. I was worried about being legal as my import sticker hadn't been updated in about 8 years. I was careful and didn't drive into town and took rides as much as I could. One day I drove and tried to sneak out of town by taking 65th. all the way to Melgar so I could go around the island without going thru town. I was almost to Melgar when I got pulled over. I thought I might be in trouble at that point. The office wanted to check my papers. He wanted to see the paper that the sticker on the window came from and my ID. The papers were from 2006 and he told me I was good to go. My  room mate Tony also got stopped. He has 2 vehicles down here on the island. One is American plated and the other Mexican plated. He has his permanent residency card and was driving the American plated car. They told him he was fine also and let him go. I still don't know what is legal but Tony's lawyer told him not to worry about driving an American plated car with your permanent residency card.
Anyway our party was coming up on March 25th so we had to get everything set up and start cooking a lot of food. Arturo again said it was ok to have the party at the Villa Blanca restaurant. I had ordered 20 kilos of baby back ribs 3 weeks earlier from Carne Max but when I went in to pick them up they weren't there. They didn't bother ordering them. We had to go to Mega and buy spare ribs. They actually cut them the way I wanted and didn't charge me for the scraps.We par boil our ribs and had a few big pots going the dy before.
They all came out good even though we had to cook them at a few different houses.
Kemtmorr Dave has become our pizza maker and spent the day before making all the pizza dough. We all met at the restaurant early to get things set up. We had a few problems with the oven not working right but everything finally worked out right. Manny made out Italian sausage. We had a lot of people helping and bringing food. Linda Staton brought dessert, Canadian Dave brought beans, Anet brought salad along with everyone else who brought something that I can't remember now. I had a few beer by that time.
On top of everything else going wrong our musician didn't show up even though I booked him 3 weeks earlier. Pepe (puppet man) had to go and track him down after about an hour into the party. He did show up finally.
We had a few drizzles of rain but not much. Steve helped out on the grill when Greg was taking a break.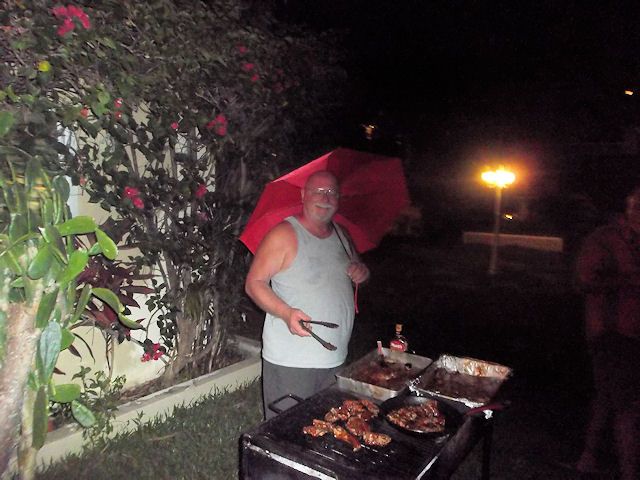 I think the party turned out very well. We had plenty of food and plenty of people. I think everyone had a good time. Maybe next year we can get more people to come so everyone can meet each other.